Stoneface Extends For The Final Time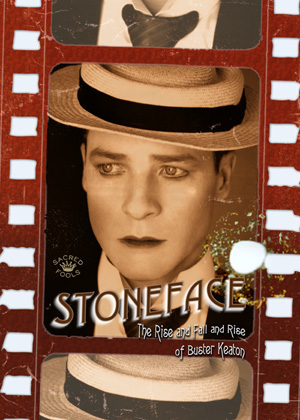 The Core Belief
Response to the premiere mega hit play Stoneface starring French Stewart as the legendary Buster Keaton has been vastly overwhelming; so much so that we've decided to extend our run ONE LAST TIME!  New shows will run Thursday through Saturday at 8pm and Sunday at 2pm August 9th through August 26th.  And because this will be our FINAL EXTENTION we've also added shows Tuesday August 14 and 21 plus Wednesdays Agust 15 and 22 at 8pm.   But don't take our word for it, here's the word on the street:
LA Times Critic's Choice: "In the eponymous central role, [French
Stewart] displays a comical gravitas entirely fitting to his subject,
combined with sheer physical virtuosity that is, quite simply, a
revelation…" F. Kathleen Foley
LA Weekly GO: "…the most exciting new play to emerge from this theater
since Louis & Keely, and one of the best new works of the city's
theatrical season so far…" Steven Leigh Morris
"The intensely theatrical joys of "Stoneface" begin early…and continue
through one clever scene after another…" Travis Michael Holder,
Backstage
"Every now and then you come across a show that so thoroughly woos the
audience right from the start that they can't hold their applause
until the end but clap right the way through. Stoneface is such a
show." Brian Sonia-Wallace, LA Theatre Review
Stoneface stars French Stewart as the Buster Keaton we never knew:
over-the-hill, alcoholic, and struggling to regain the magic that once
made him one of the greatest stars of Hollywood and the silent film
era.  This original play by Vanessa Stewart uses music, film, and
stage to  tell the story of Buster's past and present, as he struggles
to join them together and make peace with perhaps his greatest
adversary; himself.
Writer Vanessa Claire Stewart (formerly Vanessa Claire Smith) starred
in and penned the multiple award-winning Louis and Keely Live at the
Sahara, which had a record-breaking run at the Geffen Playhouse in
2009 after originating at Sacred Fools.
French Stewart, best known for six seasons on the NBC Emmy-nominated
hit 3rd Rock From The Sun, most recently appeared at Sacred Fools
Theater in the award-winning production of Watson and Justin Tanner's
Voice Lessons.  In 2011, Stewart received three Ovation Award
nominations for his work in both plays, and an L.A. Weekly Award
nomination for Watson.
Stoneface also reunites Stewart with Watson director, Jaime Robledo,
who won an L.A. Weekly Award and an Ovation Award nomination for the
production.
So come to Sacred Fools Theater (660 Heliotrope Los Angeles, California) and check out this show (for $34 cheap!) before it leaves the stage.
Hope to see you all there.
Ads
Every Friday,
get 2 for 1 movie tickets
when you use your Visa Signature card.
Denizens of the Zola System