French Stewart On Buster Keaton And Stoneface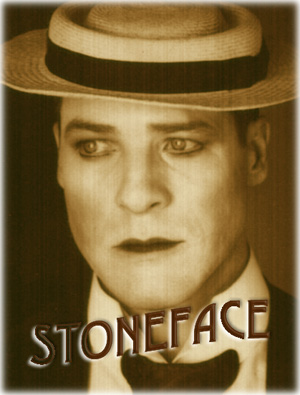 The Core Belief
My pal French Stewart's new play Stoneface, written by wife Vanessa Stewart and directed by Jaime Robledo, opens tomorrow at Sacred Fools Theater.  Below is a piece French published in the May 22, 2012 issue of www.backstage.com.
I share this with you not because he is my friend nor for public relations purposes.  No.  I offer this as today's post because any man who can turn a phrase along the lines of 'racially inelegant' deserves to be read.
Enjoy!
If I were going to make a film about Buster Keaton, I would cast Jackie Chan. I sincerely mean that. In terms of physical ability and comedic chops, he is the closest thing we have to Keaton. But, invariably, any attempt to mold Asian superstar to Caucasian comedy icon would be racially inelegant and open a can of worms that would divert the conversation from well-intended art to raw politics. Neither of these gentlemen deserves this.
So I'm playing him. I'm playing Buster Keaton. 
There is no pretense here. I'm not Keaton. I'm not Jackie Chan. I realize this. I'm a fan. A lifelong fan. And my wife (Vanessa Claire Stewart) was kind enough to write me a love letter to my hero.
Why Keaton? Because, even in the infancy of film, he had the ability to funnel hardship into entertainment and physically blow your mind along the way. He turned lemons to lemonade with a dose of Air Jordan. What's not to love?
I have always wanted to play some version of him. My wife is a beautiful writer. With Jake Broder, she wrote "Louis & Keely Live at the Sahara," which originated at The Sacred Fools, went on to a mega-run at The Geffen, and now has its sights on Broadway. She always asked me why I wasn't attempting this. She "Nike'd" me with "just do it."
But I couldn't find the story. Keaton was so interesting from cradle to grave that I couldn't decide where to place my focus. Plus, as I'm pushing fifty, I didn't want to try to ape his physical prowess with my old man moves. That could prove theatrically stinky. And I didn't want to stink my idol. I didn't want to stink up Buster Keaton.
Her answer? "Anyone can be drunk in Mexico. Play the middle part."
On February 20th, 2011, I received the best birthday present of my life when Vanessa dropped "Stoneface" in my lap. Unbeknownst to me, she had been quietly chipping away on a script. Evidently she loves me. During the next hour she watched me read it. And as I finished the last page, I was forced to collect my jaw from the floor. I just loved it. It paid tribute to the artist, without shying away from the truth of him. It was exactly what I wanted. And then we went to Hooters. It was, after all, my birthday.
The problem? Now I had to do it!
The minute it was announced that I was playing Buster Keaton, I was rained on by fellow fans who, like me, had felt let down by former incarnations. Nobody wanted another sad drunk story. I know I didn't. I wanted it all – the good, the bad, the art, the redemption, the truth. Well, "mostly" the truth. This story is told through his distorted lens so we've taken the liberty to bend reality (as well as classic bits) while hopefully being true to the man.
But, hey, if you want a mimic go to Vegas. If you want a tribute show go to Branson. I'm not a ventriloquist!
Our first call was to director Jaime Robledo.  I had just worked with him on "Watson" and knew him to be a visual master and great handler of details. Plus, I just really like his mind. We then locked down two essential cast mates, both from "Watson." As Buster in his prime, we approached Joe Fria, a Keaton expert and brilliant actor. We then asked Scott Leggett to play Roscoe Arbuckle. (Scott is super smart and just always brings the goods).  Next stop? Andrew Amani  (stunts extraordinaire). From that point on, the pieces fell like dominoes. We attached a rock star cast, rock star understudies, a rock star design team, and a rock star crew. With a show this physical and complicated, you really need a deep bench.
People have come out of the woodwork to help us. Our producer, Brian Wallis, is killing the details. Heatherlynn Gonzales is stage managing the crap out of it. Actors like Pat Towne, Jake Broder, and Tegan Ashton Cohen regularly throw me great advice, and Roger Lee Harrison, as well as Vanessa's parents, have contributed much needed financial support. It truly goes on and on and on. I wish I had time to mention everyone. I really do.
It is truly the hardest thing I have ever done. When I wake up in the morning, my knees sound like someone's making popcorn. The details are endless and the physical toll hard. To make ends meet, I'm working on a zombie movie for Sci-Fi network. During the day, I chop off zombie arms with an axe or let a monkey stick his finger in my ear. Last weekend, I ran butt naked through the streets of Woodland Hills to achieve a paycheck in a knucklehead comedy. (Don't ask.)
But at night I'm Buster Keaton.  My hero.  Bruises on my elbows, scrapes on my knees, heart on my sleeve.
Wish me luck.
"Stoneface: The Rise and Fall and Rise of Buster Keaton" starts performances May 25 and runs through June 30 at The Sacred Fools, 660 N. Heliotrope Dr., Los Angeles. For tickets and more information, visit www.sacredfools.org.
Don't miss it kids!
Ads
Every Friday,
get 2 for 1 movie tickets
when you use your Visa Signature card.
Denizens of the Zola System