Rioting For An Enabler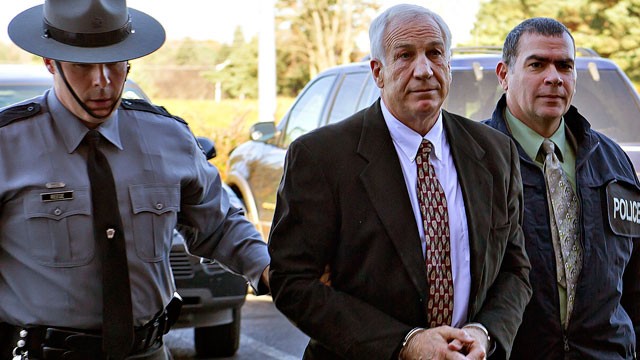 The Second Essential Scary Truth
A quick thought on Penn State's firing of Joe Paterno in the wake of the Jerry Sandusky sex scandal this cool Thursday in November.
After the trustees of Penn State fired Paterno and school president Graham Spanier, students gathered by Old Main on campus in a show of support for their former football coach.  Shortly after the gathering began, a riot broke out.
(From Fox News.com)
Violence erupted on the campus of Penn State Wednesday night after the school's board of trustees ousted its legendary football coach and university president in the wake of a widening child sex abuse scandal.
Riot police were deployed in State College, Pa., late Wednesday as thousands of Penn State supporters vented their anger at the firing of head football coach Joe Paterno and university president Graham Spanier over the school's handling of child sex abuse allegations against a former coaching assistant. 
At around 12:20 a.m. local time Thursday, the university issued an official police dispersal order through Facebook, warning students to vacate downtown State College immediately. It came after several violent scenes in which protesters flipped over a media van and destroyed other property.
About 2,000 people gathered at Old Main and moved to an area called Beaver Canyon, a street ringed by student apartments that were used in past riots to pelt police, Fox affiliate WTXF-TV reported.
The disorder escalated after the school's board of trustees held an emergency meeting Wednesday night and later announced that they had dismissed Paterno, the longest-tenured coach in major-college football, and Graham Spanier, the school's president for the past 16 years. 
Both were ousted by a board of trustees fed up with the damage being done to the university's reputation by a child sex-abuse scandal involving Paterno's one-time heir apparent, Jerry Sandusky. 
Sandusky is accused of sexually abusing eight boys over a 15-year period through a charity he founded for at-risk youth.
Athletic Director Tim Curley and Gary Schultz, vice president for finance and business, have also been charged with perjury in connection with their testimony before a grand jury considering the evidence against Sandusky. They failed to notify authorities about the abuse, prosecutors said. Curley and Schultz have maintained their innocence.
While several arrests were made in State College Wednesday night, the disorder was controlled amid a strong presence from state police. 
Quick question to the student rioters: you committed these group acts of violence in the name of a man who's moral failings have been shown to be so huge as to allow a serial pedophile to continue his rampage.  Is this man worth the felony blot on your record, a record you will use to get a job in a lousy economy in just a few months?
Ads
Every Friday,
get 2 for 1 movie tickets
when you use your Visa Signature card.
Denizens of the Zola System